Music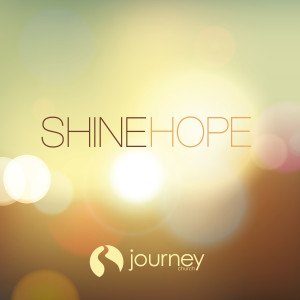 Shine Hope is the latest installment from Josh and the worship team at Journey Church. Hard-hitting anthems like "Celebrate the Day" and "Brand New" highlight the access we have to God, the new life He brings, and the hope of the cross. Ballads like "Spirit Come" and "Love and Mercy" reflect the intimate nature of a personal relationship with Jesus and the soul's desire to know Him and be like Him. Intentionally vertical (songs addressed to God, not just about God), and written from a corporate, first-person plural perspective ("we," "us") Shine Hope is an authentic expression of a community of believers who truly desire the presence and power of God to impact wherever they live, work, study, play, and shop. [2014]
Take Your Place contains eleven original songs written by the worship team and birthed out of the move of the Holy Spirit that is happening at Journey. At times hard-hitting and in-your-face, and at times intimate and reflective, this album will take you on a journey to the throne of God where the only prayer then becomes, "Lord Jesus, take Your place on the throne of my life, and receive the glory that is due Your name alone." For lyrics and chord charts visit takeajourney.org/worship. [2012]
Originally recorded as a fundraiser for the Via's adoption of their daughter Alethia, Resurrection Songs is a 6-song EP themed around the Lenten weeks leading up to Easter. Designed for kids and families, each track is a Scripture memory song based on the 7-week devotional by Tasha Via, Bigger Than The Bunny. Our prayer is that it will be a blessing to you and your children, as you hide God's Word in your heart together. [2011]
The First, The Last is compiled of both original songs and rewrites of great Christian classics like Keith Green's "Altar Call" and Benny Hester's "When God Ran." Josh reaches back into his roots with the inclusion of hymns like "Come Ye Sinners" and "We Have Heard the Joyful Sound," while still maintaining a fresh rock sound. The soundscape of TFTL ranges from the chill and ethereal sounds of "In His Hands" and "People of the Light" to the more pounding modern rock sounds of "Darkness Shine" and "Even So, Come." Thematically, the project begins with God's faithfulness, salvation/redemption, grace, and the cross and moves to the future hope of Christ's return and man's response, with the title track encompassing all of these major themes in one. [2010]
There's an old expression that says, "All that glitters isn't gold." That expression reminds us that there are some things in life that may promise us good times and a great life, but in the end they just don't deliver what they promised us. We find ourselves disappointed and let down, again. All That Glitters will take you on a musical journey to discover true riches. So sit back, relax and allow the next 35 minutes of this album to help direct you toward what your heart and your soul have always longed for. [2009]
The Healing combines passionate, modern worship minus the lyrical cheese of much of mainstream modern worship. The songs are unapologetically Gospel-centered, Christ-exalting, and in-your-face anthems perfect for congregational worship or for personal devotion. The inclusion of several hymns combined with nine original worship tunes makes for a unique ancient-future feel. Several spontaneous worship moments in the studio were captured as well, and the hope is that the listener/worshiper will likewise experience those moments in their car, home and work. [2008]
Books
The Discovery – Beyond the Jesus of Flapjacks and Grilled Cheese – By Josh Via
What if there is more to Jesus than what the media portrays? What if there is more to Jesus than what your college professor might tell you? And what if there was a book of the Bible written to counter these common misconceptions about Jesus-to answer skeptics-to expose the truth. Would that change the way you view your life? Would it change your priorities? Values? The Discovery is a 21-day devotional journey through John's Gospel that will challenge you to revisit, or visit for the first time, the Jesus of Scripture. The Jesus who is much more than a distorted icon of pop culture or an obscure figure in history. The Jesus who wants to open your eyes to a lifelong discovery-that your own identity is wrapped up in His.
Bigger Than The Bunny – By Tasha J. Via
Do you ever wonder how in the world you're supposed to teach your children about the true meaning of Easter when there are bunnies hopping around in every store and Easter candy begging to be eaten by little ones? Do you question whether to leave the whole crucifixion part out so you don't scare the younger ones or just try to tiptoe around the miraculous resurrection because it sounds too crazy? Bigger Than the Bunny will help you answer these questions while giving you some practical and fun ways to bring this story to life for your children, as well as for the whole family.