The Last 3
The past three weekends have been spent on the road, and we've been blessed to be a part of what God is doing in three amazing churches. Here's a brief rundown.
On May 15th, we were invited to be a part of First Baptist Indian Trail, NC, to lead for their contemporary worship service called "The Lift." It was great to reconnect with some dear friends who call this church home. This particular Sunday they highlighted a recent mission trip to a small town in Alabama to do tornado disaster relief. The mission of God is moving forward in this body.
Worship Set
1. Our God is Love (Hillsong)
2. Revival's Fire (Andy Cherry)
3. Forever Reign (Hillsong)
4. How Great is Our God (Tomlin)
5. Our God Reigns
On May 22, we led worship at Capital Community Church, a young church plant of about a year-and-a-half located in the heart of Raleigh. Capital planted out of Providence Baptist Church with a strong core group and a heart to reach the city. Their worship leader, Lane Wood, had to be out of town this particular weekend, and it worked out that Tasha and I and Mike Passaro from Providence and Ryan Gladden and Wes Matlock from Journey could come and lead for them.
Worship Set:
1. Freedom is Here (Hillsong)
2. Christ is Risen (Matt Maher)
3. Grace Greater Than Our Sin
4. Everlasting God (B. Brown)
This past week, May 29th, I had the great privilege of leading at Fellowship Memphis, a multi-ethnic congregation that is reaching the city of Memphis under the leadership of Pastor Bryan Loritts. I was able to spend the weekend with their worship leader, Jonny Pineda, and some of his team of worship leaders talking about worship, answering questions and getting to experience a little of life and ministry in Memphis.  Fellowship is truly multi-ethnic, and is reaching the hard-to-reach areas of the city. It's encouraging to know that there are churches like Fellowship, committed to the preaching of the Word, reaching lost souls, and to seeing its community transformed by the Gospel, both spiritually and physically.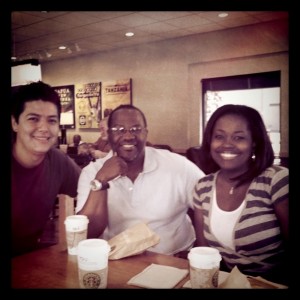 Worship Set:
1. Glory, Glory, Glory (Bishop Noel Jones)
2. Again I Say Rejoice (Israel Houghton)
3. Bless the Lord/Son of Man (Tye Tribbett)
4. Holiness/Take My Life (CeCe Winans)
5. Lead Me To the Cross (Hillsong)