Happenings As Of Late
The last month has been filled with news, to say the least, from the Via clan. The Lord has been teaching us a lot about trusting Him, especially when the process or system to get where He wants to take us is difficult and sometimes seemingly impossible. If there's a constant theme that He's been chiseling into our hearts, it's patience and trust. His constant pursuit of our hearts and our affections is a continuous source of encouragement. Well, here's a quick rundown to catch you up to speed.
FAMILY
The biggest news to date: Tasha is expecting! Yep, that's right. We were told this could happen once we began the adoption process. And sure enough, it did! It definitely came as a bit of a shocker, but we're excited, nonetheless. Scared? Definitely. Thankful for the blessing of God? Absolutely. So, looks like we'll be a family of five….one of those families. Ha! We're just trying to take the biblical mandate seriously around here. 🙂 So far, Tasha is feeling pretty good. She's definitely tired, but overall this pregnancy hasn't been as hard on her as the other three.  We're keeping our fingers crossed.
Adoption News: We are tracking pretty well now. We were assigned a judge about two weeks ago, so now we are simply waiting on a travel date. Our agency said that a ballpark travel time would probably be sometime late September or early October. We're hopeful. We also found out that we received a very large grant from Show Hope, Steven and Mary Beth Chapman's foundation that was started to help adoptive families with the financial burden. And boy did they help!! The letter came at a perfect time when Tasha and I were seriously and genuinely asking ourselves where the rest of the money was going to come from. Now, we have approximately $5000 left to raise, which, in all honesty, seems like pennies now compared to where we started.
Shabby – Our little girl, Shabila (possibly changing her name to Alethia), is doing well at the orphanage. My Mom and Dad, sister Joy and brother Jacob got to visit her and Laiti (Smooth and Kelly's little girl that they are adopting) in the orphanage at Bukaleba last month on their annual Uganda trip. The word is that both of our girls are healthy and doing really well. We've been told that Shabby is a little fireball and quite a handfull. No worries though. She'll fit in perfectly with the Via clan. We continue to pray for a soft heart for her and for her salvation one day, just as we pray for the salvation of all of our children.
MINISTRY
We've continued to travel a little bit throughout the summer, even though we haven't had as many camps as we've had in previous years. But I guess that's been kind of a good thing with all the other craziness happening.
July 3-4 we led worship at The Summit Church across town in Durham, NC. It was a blessing to experience the move of God happening there and we're so thankful for the ministry of Pastor J.D. and the heart of Summit to reach this city and the world with the Gospel.
The following week we went with the students at Journey Church to lead worship for their summer camp. We had a great time. Many students came to Christ on the second night of camp and committed their lives to following Jesus. It was a blessing to be able to hang out with these kids and hear their struggles, issues and passion to follow Jesus in spite of the all the negative influences telling them to do otherwise.
On July 17, my good friend Andy Cherry and his band came up from Charlotte and spent the week with us at Journey Church. It was a great weekend and the Lord did a great work through those guys. If you haven't heard any of Andy's stuff, you need to go check it out at andycherry.com and then have him for your next event.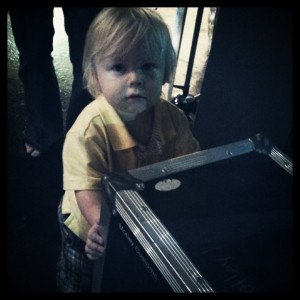 (Micaiah was Andy's little roadie)
This past weekend, July 24-24, I had the cool privilege of flying out to Cape Girardeau, MO to be a part of La Croix Church. These guys are really getting the job done in southern Missouri, and have made a huge impact on their city since their birth almost 25 years ago. Their founding Pastor, Ron Watts, unapologetically preaches the Word. It was a blessing to serve with their worship team for the weekend and to experience what God is doing in that fellowship.
In addition to traveling, I've also been working with our worship team at Journey Church as we've been slowly plugging away on our first studio worship project. We're hoping to release it just before Christmas. The project will consist mostly of original material that has been birthed out of what God is doing here at Journey Church as well as in the Triangle in general. Look for the first song "Your Love" to be released as a single on iTunes in the coming weeks.