Oasis 2010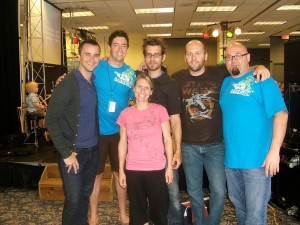 Our first weekend at Myrtle Beach turned out really well. We led worship for the student camp of Ingleside Baptist Church (Macon, GA). We had a killer band made up of friends from Charlotte and Raleigh (Andy Cherry, Patrick Downing, Jordan Leino, and Scott Spruill). All of these guys are or have been worship leaders in various churches and contexts, so it was really refreshing to share the stage with guys who are not only crazy-talented but have a real heart for the Lord and who view ministry off-stage hanging out w/ students as just as important, if not more important than what happens on-stage.
Fred Brooome and his incredible team of parents and volunteers pulled off yet another amazing camp experience for their students. Dr. Alvin Reid, from Southeastern Seminary and a former professor of mine, brought the Word everyday. It's always fun to get to do ministry w/ former profs and mentors. Dr. Reid challenged students to join the movement of God that he began 2000 years ago w/ Jesus Christ and his band of unlikely followers. On the final night, he challenged students from Philippians 3, explaining the differences between religious belief versus a genuine relationship w/ Christ.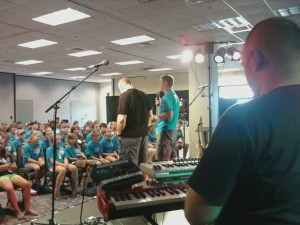 1. Religious belief is about accomplishment. Relationship is about the accomplishment of the cross.
2. Religious belief draws people just like ourselves. Relationship means drawing close to Jesus.
3. Religious belief values activity. Relationship values God.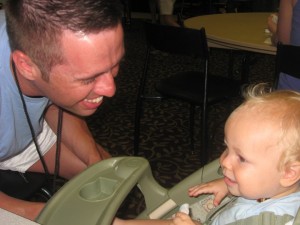 We had a blast w/ the Ingleside group. I love those guys. They always take great care of us, love on our kids, and do everything to lift up Jesus.
Thanks for your prayers for us. The Lord truly answered. All in all, about 12 students made first-time commitments to follow Jesus Christ, and dozens more committed to take their relationship w/ Jesus seriously. Praise God for His steadfast grace!
Some of the songs we worshiped to include:
1. We Shine (Fee)
2. Freedom is Here (Hillsong)
3. All Because of Jesus (Fee)
4. Rise and Sing (Fee)
5. Revival's Fire (Andy Cherry)
6. We Have Heard the Joyful Sound (Via's)
7. How He Loves (John Mark)
8. Everlasting God (B. Brown)
9. Come Thou Fount
10. Glory to God Forever/No One Higher (Fee)
11. Holy (Andy Cherry)
12. Salvation is Here (Hillsong)
13. I Exalt Thee (Jesus Culture)