The Back Story – Part 1
My buddy, Will Hughes, who has played drums for me a good bit since we've been here in Raleigh, asked if I would answer some questions for an artist interview on his blog.  So, I thought I would post my responses here as well in a series of posts for anyone who cares.
1. Tell us what you do for a living.
In a nutshell I get to proclaim the Gospel through word and song and I get to help lead people to the throne of God through the median of musical worship.  I get to write songs to and about my great God.  And I get to travel to places both far and near to spread the great news that Jesus saves.
More specifically, I am connected to Journey Church (takeajourney.org) here in Raleigh, NC as the worship pastor and an artist-in-residence.  Journey has been such a life-line for Tasha and me.  We began praying almost two years ago to find a church where we could serve regularly in a worship leading role, but where we also had the freedom to travel, leading worship for camps, conferences, churches, events, etc.—essentially being sent out from a home church.  And we found all of that and more in Journey Church.  Through some God-ordained circumstances, we moved from Charlotte to Raleigh back in October 2009 to make Journey our home.
We continue to travel about two weekends out of the month as Josh & Tasha Via Ministries, a non-profit ministry we founded almost 4 years ago.  And I say "we" a lot because it really is a team effort.  Tasha plays the violin along side me in most cases, and is very much both the beauty and the brains of this ministry.  She takes care of the bookings, accounting, and gives a ton a spiritual guidance and direction along the way. We came under the umbrella of my dad's ministry, Rick Via World Reach Ministries, based out of Roanoke, VA to initially begin helping new church plants get their worship ministries off the ground.  Since then, the Lord has allowed us to continue to expand our ministry in various ways a little each year, and we're incredibly grateful for that. (By the way, Tasha has a killer blog.  Check it out at tashavia.blogspot.com)
2. List your gear. (you can also include what you use to record at home).
Up until about 5 years ago, I was pretty much an acoustic guitar player solely.  But during my stint in Charlotte playing with a bunch of killer musicians, I branched out and began trying to hone in my skills a little better on the electric guitar as well.   The picture here is pretty much all the gear that I typically use on any given weekend.  My primary acoustic guitar is a Taylor 410-CE.  My electric is a Fender Telecaster (Nashville Tele).  My modest pedal board that sits on the PedalTrain Pro rack consists of 3 overdrives, Blues Driver Keeley mod, SD-1 Cheeseblocks mod, and Fulltone GT-500.  My two delays are the TC electronics Nova Delay that is great for live settings with 9 presets, and the Line 6 DL4.  I've also got the Electro-Harmonix Holy Stain reverb pedal and a little LPB-1 gain boost in front of the SD-1.  For my acoustic I've got the industry standard L.R. Baggs para-acoustic d.i. and in front of that I've got an Aphex Big Bottom that adds some nice crispness to the tone.  I've got everything running through the Boss Tuner and volume pedal and then into the Morley AB switcher box so that I can simply and easily use 1 tuner and 1 cable for both guitars.
My primary amp right now is a 1964 Fender Pro Reverb passed down to me from Tasha's grandpa from Denver, CO about a year ago.  He had it in his closet for years and was recently moved to a nursing home and wanted me to have it.  With some TLC from Paul Gussler of Oldfield amps in Charlotte, this puppy is sounding really nice.  I've also got a Fender Blues Deluxe that I sometimes play, but recently we've been running Tasha's violin through it, and it sounds great.  When she's not playing through the amp, she also uses an L.R. Baggs d.i. along with a volume pedal and the new Cathedral reverb pedal by Electro-Harmonix that sounds really, really nice.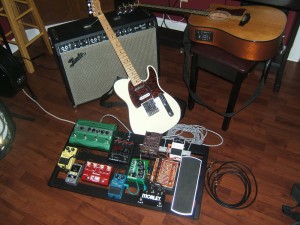 For demo recording at home, I've got a little Tascam 2488 that is all-the-time offered in Musician's Friend mag.  I got it about 5 years ago with the package deal of speakers, mics, cables, etc. It's been such a great tool for getting quick, great-sounding demos.  It was just a good move for me because I'm not very savvy with ProTools or any software-based recording systems. For me, I like the old-fashioned faders, knobs and switches, especially since I'm not trying to record my own albums … just demos.